Along with residential and commercial pick-up and delivery, we along with our mover partners provide a complete range of logistics service for the safe and sure shipment. We never restrict on shape, size, volume, and kind of products to ship.
We are known for shipping of every size of products whether it is small or big machinery, grandfather clock, medical equipment. Our policy is to serve the customers according to their convenience.
You can trust us to help you ship anything anywhere in Tampa, Lakeland and Orlando city with utmost safety and great care.
We provide the smart packing and shipping services for moving your Grandfather clock across the country. We are unique in:
Custom packing of grandfather clock

Specialty crating and shipping services

White Glove pick-up and delivery of different kind of products
Our partners' coast to coast shipping at national and international level cater to business-business, business-residence, and residence-residence shipping.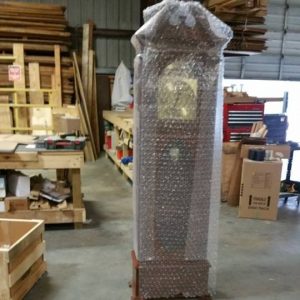 We have the completely supportive system for packing and shipping medical equipment with extra care. We utilize the best packing material for your all medical equipment such as X-Ray machines, CT scanners and much more.
Our association with various expert packers, movers, shippers, and transporters ensures the safety of your goods and your peace of mind.
Come to us for all crating requirements. We are listening to you.